Goblet Teaser ScreenCaps, Sneak Preview Clips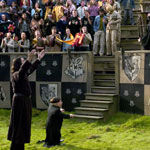 May 07, 2005
Uncategorized
We now have the screencaps up in our Galleries from the newly released Goblet of Fire teaser trailer. Click here to view them.
In case you missed it, you can see the trailer at the newly opened official Goblet of Fire website here.
Also, Jeff from Hpana let us know that they have mirrored all of the clips from tonight's Goblet of Fire sneak peek which just aired on ABC. Click here and enjoy the Goblet goodness!