Newell, Radcliffe Interview in Entertainment Weekly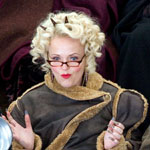 Jun 10, 2005
Uncategorized
The new issue of Entertainment Weekly contains a small article about Goblet of Fire, with new quotes from film director Mike Newell, and actor Daniel Radcliffe. The article says the fourth Harry Potter film will be shown for the first time to the WB excutives in a couple weeks. The article also mentions that work is being done as well on the Order of the Phoenix film, and that Daniel Radcliffe will be back for that movie as well.
"I'm terribly pleased with the film," says director Mike Newell(Donnie Brasco) of Harry Potter and the Goblet of Fire, the fourth movie adapted from J.K. Rowling's series of novels, due Nov. 18. In two weeks, Newell will screen his work (minus completed special effects) for Warner Bros. brass for the first time. Nervous? "Of course!" he says. "This is a story where the kids
[are] now teenagers. Is the audience ready for an older Harry Potter? They bought the book–I just hope we present a Harry Potter they want to see." Couldn't have set the stakes better ourselves.

Work has begun on the fifth film, Harry Potter and the Order of the Phoenix. British TV veteran David Yates will direct,and screenwriter Michael Goldenberg follows Steven Kloves. Harry is still good to go. "My enthusiasm has absolutely not gone down," says Daniel Radcliffe, 15, who wouldn't rule out doing a non-Potter film before starting part 5 in January. "But it would be a mistake to want to show you can do stuff other than Harry Potter so badly that you just rush into something."
This issue of Entertainment Weekly (with Tom Cruise on the cover)is on newsstands today.