The Man Who Discovered Potter: "Carry the Child Within You"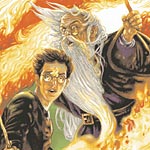 Jun 15, 2005
Uncategorized
Barry Cunningham, publisher and managing director of Chicken House books, the founding publisher of Bloomsbury, and the man who finally took on Potter, talks to Fortune in the June 27 magazine for their article on decision-making:
"When we started Bloomsbury Children's Books in 1995, publishing was full of 'issue books' describing serious and important subjects for children. But they weren't books for book huggers, things that children responded to from an imaginative point of view. I got the manuscript [and] … you'd expect the sky to part and thunderclaps to sound – but it didn't. I just knew it was a great book.

…Rowling needed someone to see what it was, a story of bravery and danger and adventure but with great humor – as opposed to what it wasn't, a traditional children's book.

I choose books purely based on what I believe children will react to. If you carry the child within you, that's what works.
More of this excellent piece at the link.