J.K. Rowling to do Interview with Time Magazine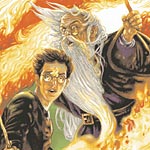 Jun 16, 2005
Uncategorized
It was reported today that Time Magazine will be featuring a new interview with Harry Potter author J.K. Rowling. In a column for The Boston Globe, the reporter mentions the two mainstream media interviews that JKR will be conducting for the release of Harry Potter and the Half-Blood Prince, along with the one she will be having with our own Melissa Anelli, and Emerson of MuggleNet.
You won't hear J.K. Rowling complaining about her grueling book tour, because there isn't going to be one. She has chosen two US media outlets for interviews, Time magazine and NBC's "Today" show, and plans to speak with the operators of two Harry Potter-oriented websites, www.mugglenet.com and www.the-leaky-cauldron.org. According to the Times of London, "the increasingly reclusive" Rowling, who owns homes in London and Edinburgh, hasn't spoken to a British journalist in two years.
Time has done previous features about Harry Potter, such as this one from 2004. We do not yet know the date of publication for this interview, and we will bring you more information as soon as we can.