Ralph Fiennes: Devil's Advocate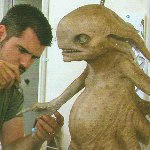 Jun 17, 2005
Uncategorized
The new issue of "Entertainment Weekly" magazine has a feature this week called "The 122 People and Things We Love This Summer." Ranked at number 13 is actor Ralph Fiennes who will portray Lord Voldemort in the upcoming Harry Potter and The Goblet of Fire film.
Age: 42. Mustworthiness: Give him a character who's intellectually cold and morally cloudy, and Ralph Fiennes will make him smolder and blaze. With The Constant Gardener-adapted from the John LeCare novel by Brazilian director Fernando Meirelles(City of God)-the two-time Oscar nominee(Schindler's List,The English Patient) delivers a buzzed-about performance as a British diplomat investigating his wife's murder.

Known for tightly wound men on the verge of implosion, Fiennes gets to uncork in Harry Potter and the Goblet of Fire as the most mythic villain in contemporary fiction, Lord Voldemort (Sorry Darth). Immoral Fixation: So how does one play the incarnation of evil? "Good Question," says Fiennes, laughing. "My inclination was to underplay it, but you can't underplay Voldemort. He is evil. What I wanted was a you-never-know-what-he'll-do-next quality. My nephews and nieces visited the set-they were quite taken aback. Probably because I was bald."

On His Must List: "Sofia Coppola, I loved Lost in Translation, I'd love to work with her. Worst Job: Selling shirts during his struggling-actor years. "I would take this sack of shirts into offices and pitch them to working people who had no real need for shirts. It was soul-killing. Worse, I was terrible at it. There was another actor doing the same thing. He sold 20; I sold one."

Next: After The Constant Gardener (Aug. 26) and Harry Potter (Nov. 18), Fiennes has three other projects in the can, including the Merchant Ivory Drama, The White Countess.
Also mentioned on the list is Harry Potter illustrator Mary GrandePre who is listed at number 69. There are scans of the article up at Hpana which you can see here. This issue of EW is available today.
Thanks to Hpana, and everyone who sent this in!