Leaky Beta: Chamber of Chat, TLC's First Game!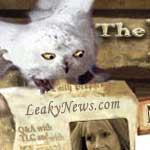 Jun 22, 2005
Uncategorized
Presenting Leaky's first-ever game, a current work in progress we like to call Chamber of Chat!
This is also our first ever chat. When the folks at ISO Interactive came to us with this chat game, we had so much fun with it, we knew you would too, even though it's not the type of fare Leaky usually puts out there. All we knew was we were having a ball, and it was too good to pass up. Check out these screenshots:
Chamber of Chat is a fully-interactive graphics-based chat. You are sorted into a house, modify your avatar, and choose from a Potter-related area to visit. Right now you have the option of visiting the Leaky Cauldron, the edge of the Dark Forest, the Study Hall and a Rune Field.
Since this game is still in beta, many of its to-be features are not yet active. At the moment you can chat with each other as well as hurl spells, if you know the right wand movements. In the future ISO Interactive plans on implementing more features, including logic-based games (where you use objects and coordination to gain access to spells) and spells that actually work on other members (imagine freezing your chat partner with a cleverly placed Petrificus Totalus).
You'll need Shockwave installed in your browser to play. Its development will depend on fan interest, but we'll have more on that in the future. Right now, we and the creators of the game wanted to get this out there so that you can mess around and so that they can determine what areas still need patching when there are a lot of users. Please be aware this game is in BETA, so watch out for bugs and crashes – we will keep you updated on changes! Update: If you are having problems and would like to report them to the creators, please visit this link to do so!
Enjoy Chamber of Chat!