Fans 'Band' Together to Honor Friend, Support Creativity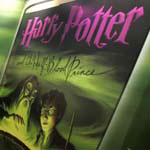 Jun 23, 2005
Uncategorized
FictionAlley.org, the largest online archive of HP fanfiction, is holding a fundraiser to endow a scholarship fund for one of their former members, a teenaged writer who died of leukemia earlier this year.
The site is selling wristbands (similar to the popular, yellow, Lance Armstrong variety) online and will have them available at at least two dozen HBP release parties on July 15 (including parties in NY, Chicago, L.A., London, Ann Arbor, Melbourne, Washington DC, Boston, Houston, Reno, Seattle and more. The full list of stores participating will be available soon.
They are selling the bands in memory of Katie O'Brien, who died in March. She had been writing a fanfiction called "Anna Grayson and the Order of Merlin," assisted by her father, Dave. She wrote through to the end of her journey, even while in the hospital. Her last writings occurred six days before her death; her father has continued to upload the chapters to the site.
To date the site has raised more than $1,000, and aims to raise $5,000 to fund three scholarships for three years. Beginning in 2006, the site will award a writing, art and community service scholarship; each recipient will receive $500 to use toward his or her education.
The drive marks the first time in memory that an HP fansite has created a scholarship program to assist youngsters' education. Wristbands are $5 and can be purchased at the events or here. An order form will be available soon for snail mail.