Rubbish Fodder: "The Sun" Claims to Publish Book Seven Title(s)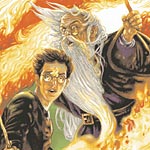 Jun 24, 2005
Uncategorized
Brit tabloid The Sun reports today that it "may have solved one of the biggest Harry Potter mysteries – the title of the final novel about the boy wizard," and that the book seven title is either Harry Potter and the Parseltongue Trophy or Harry Potter and the Great Revelation. Their supposition is based on patents filed two years ago.
Don't buy it for a minute. These names have been registered since at least October, 2003, a quick archive search shows.
Every time WB registers an HP name – and they have many registered that haven't been shown any way related to the books, simply to avoid potential conflicts – someone writes a story that that name is the name of a future book. WB registers the title at the date Jo announces them, as it did with HBP. A name registered in 2003 is not the title – Jo has said she keeps these to herself, and that no one knows the names of unpublished books besides her, before she makes it publically known. Harry Potter and the Green Flame Torch is on the list of those registered, and we all know Jo roundly debunked that. HBP was registered two years ago, but she had already named that title publicly, in a BBC interview, as it was a working title for book two – so it makes sense that it was registered to prevent others from having it, just in case. In any event, we're sure we'll hear it from Jo first.
And, let's all get through book six before worrying about book seven, okay? Eesh.