JKR Minibook Recirculated in eBay Auction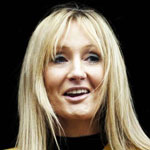 Jun 27, 2005
Uncategorized
A minibook written by J.K. Rowling and auctioned for charity has just resurfaced and been sold on eBay for £24,995 (a customer ended the bidding by paying a predetermined amount that would ensure victory). The piece is, as the eBay store describes it:
"A beautiful piece, written, and signed, on the opening page in fine black pen ink 'by J.K Rowling' the bestselling British author. A miniature, green hard-back (landscape) book, embossed with gilt decoration (measuring approx. 4×6 cm), which contains a selection of delicate illustrations of broomsticks, witches hat's and Harry's trademark wire spectacles in fine black pen ink.

Rowling lists the books he requires for his spells and describes the clothes he needs. She also reminds parents that 'first years' are not allowed there own broomsticks. The book ends with the acknowledgement 'From Harry Potter and The Philosopher's Stones by me'. An exquisite piece in excellent condition."
The book looks very much like the one that was auctioned off at Sotheby's on November 1, 2004, to benefit the charity The 999 Club. Thirty books – by the likes of Paul McCartney and Madonna, as well as JKR – were auctioned off. The books were made especially for the purpose of the auction, and so it's unlikely that the eBay sale is of a different item. The Daily Record has this pegged as a book she used when HPSS/PS was first coming out, but there's nothing on the eBay page or anywhere else to suggest that.
At the first auction, the book raised about £11,000, less than half what it just went for on eBay.
It was sold by autograph specialists Stanley Gibbons (eBay store).