Amazon's HP Kids Review Panel Winners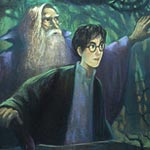 Jun 28, 2005
Uncategorized

Earlier this month we told you that Amazon.com was holding a Harry Potter Review Panel contest for children to send in videos with their thoughts about Harry Potter. The winners have now been selected, and you can view them here. According to this press release the winners are:
*Kaitlin Bennett, age 13, from Houston, Texas. Kaitlin thinks the novels really shine when Harry and his friends do pure, selfless acts to protect one another.

*Emily Collier, age 17, from Orange County, California. In the blink of an eye Emily can tell you how many stairs there are in Hogwarts and who the oldest Weasley family member is.

*Priya Farooq, age 15, from Westchester County, New York. Priya loved the explosion of emotion in the Shrieking Shack when Peter Pettigrew was confronted.

*Chelsea Guy, age 13, from Knoxville, Tennessee. Chelsea loves the Harry Potter series because it proves that when boys put their minds to it they really can accomplish things.

*Ben Johnson, age 16, from Lancaster, Pennsylvania. Ben believes that Sirius will play a role in Book 6, although he may not be alive, as will Pettigrew, who was conspicuously absent in "Harry Potter and the Order of the Phoenix."

*Aspen Ott, age 14, from Mesa, Arizona. Aspen is convinced that Harry should date Luna in "Harry Potter and the Half-Blood Prince."

*Rachel Purdom, age 10, from Philadelphia, Pennsylvania. Rachel has read all the Harry Potter books at least 10 times each and claims she can mentally scan them in her head to answer any Harry Potter question.

*Taylor Swaney, age 12, from Liberty, North Carolina. Taylor hopes that, in Book 6, Draco will come to need Harry, and that Harry will come to his rescue.

*Aliyah Weinstein, age 14, from Camden, New Jersey. Aliyah has her own Harry Potter theories Web site and is also the coeditor of a very popular Harry Potter Web site.

*Kendall Westbrook, age 11, from Dallas, Texas. Kendall loves Harry Potter books because they are "complicated, yet, so obvious" and are filled with suspense, humor, sorrow, and action.
Yesterday, Amazon also announced that they have received "more than 1 million orders for the U.S. and U.K. editions of "Harry Potter and the Half-Blood Prince" on its retail Web sites worldwide, more than 650,000 of which were placed on www.amazon.com." If you still would like to pre-order the book, you still can, and get release day delivery via our Cauldron Shop.