Harry Potter and the Problems of Pre-Ordering the Prince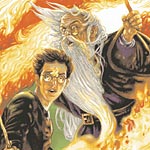 Jun 30, 2005
Uncategorized
The New York Times has an article today about one mom's quest to find the best way to order HPB online:
"But my daughters had other concerns. When, exactly, would the book be delivered if we ordered it online? How many precious hours beyond midnight would be squandered in wait? Was delivery on the release date – a Saturday – guaranteed?…They were right to wonder. When I visited the three online sites to compare offers, I realized that delivery time varies. Amazon.com promised the most. 'Select Standard Shipping and order by July 11 for guaranteed delivery on the release date of Saturday, July 16, 2005, or we will refund the cost of your book,' the site said."
If you're still wondering which way to order, this article offers a good and funny summary of your options.