Pics of HBP at Borders; Borders to Cut off PreOrders on Saturday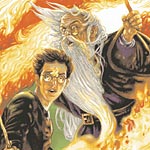 Jun 30, 2005
Uncategorized
A worker from Borders wrote in to tell us they have recieved their HBPs, and are very excited about it! If you want to see pics of the boxes – they were quickly locked up in a manager's office – click here.
The books will only be moved at 11:50 p.m. on the 15th, and opened at exactly 12:01.
Also, this Borders employee told us that if you are planning on pre-ordering from Borders, you need to do it by Saturday, July 2. The demand at the store is threatening to outstrip supply, so anyone who pre-orders after that point will be put on a wait list, and if a book is available will get it for 30% off.
Borders, in addition, will be having lots of "Harry themed drinks," we're told. You can find your nearest Borders at PotterParties.com