Book Expo America: Levine Talks HP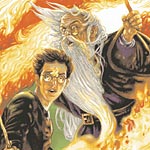 Jun 05, 2005
Uncategorized
Newsday is publishing a blog about Book Expo America, a publishing showcase taking place in New York City right now. The reporter spoke to Arthur Levine, publisher of Arthur A. Levine Books, the imprint under which Scholastic publishes Harry Potter, and though Levine spoke in his usual "saw nothing, know nothing" way, some of what he and others said might be considered a bit spoilery. Click below to read. Thanks, Bethany!
Alas, I was less successful wheedling any information about the new Harry Potter from the book's editor, Arthur Levine. "There's a new character named Maclaggen,†he said, and spelled the name. And …? And nothing. Levine clammed up. … somebody dies. True? "I can neither confirm nor deny.†Does Harry have a girlfriend? "I can't say … He's definitely growing up in all areas of his life.†Later, he said he didn't experience this book to be as dark as the last, though the overall arc of the series is that the "world is getting more pernicious.†This one, he said, "has more romance in general.†And then he and marketing VP Jennifer Pasanen, who was sitting in, started humming "Love is in the air.†Well, it's a clue.
Unless someone swipes a copy of "HP and the Half-Blood Prince†(as two men already did in London, but they were caught), we'll have to wait until July 16.
On that day, said Pasanen, there are going to be at least 2,000 midnight parties (compared to some 800 Scholastic knew about at this point last time). Scholastic is printing 10.8 million copies (6.8 mill last time), and making 5.5 million giveaway tattoos, compared to 3 million bumper sticker giveaways with the last book. "There's a different scale,†she said.