Scholastic: HBP Books Printed, Safe, and Ready to Go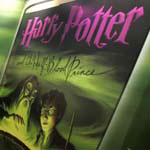 Jun 05, 2005
Uncategorized
Reuters is reporting tonight an interview with Barbara Marcus of Scholastic where she says that 10.8 million copies of Harry Potter and the Half-Blood Prince have now been printed. She says the books are safe, and are ready to go for the July 16th release.
In an interview at the Book Expo America trade fair in New York, Marcus said security was tight but Scholastic was relying on booksellers to make sure there are no leaks or early sales.

"They really know what their responsibility is. The only thing we hold over people's heads is that we say we can't ship any more books," she said, noting that the threat of being cut off from future supplies was keeping booksellers from breaking the rules.

"Everybody wants to be able to put this book in the hands of the children," she said.
Barbara Marcus goes on to say that she is one of only a few to have read the book, and would not elaborate with any new hints of what is yet to come in Book 6 of the Harry Potter series. Only 40 more days!