The 'Ask Jo' TLC/MuggleNet Contest: Ask Jo a Question!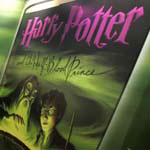 Jun 06, 2005
As most of you are aware, on July 16, Emerson of MuggleNet and I will be in Scotland, interviewing Jo Rowling to celebrate the release of Harry Potter and the Half-Blood Prince. With less than 40 days to go, it's time we get down to business!
We know you're all dying to get a question asked. And while we've got a stockpile of our own questions, we want to be sure the fans here get their voices in there too. So, Emerson and I are both opening threads on our sites' respective forums where you may post questions for JKR.
To add some fun to it, we're holding a contest. From now through June 18, respective staffs of TLC and MuggleNet will weed through their respective threads, looking for 10 winning questions, which will be posted here in a poll. The top three votegetting questions from each of our sites will be posed to Jo Rowling on July 16.
Rules and Suggestions, which may be different on MuggleNet:
1. As we will interview Jo Rowling on the day of the book release (and will in all likelihood be done with, or close to being done with, the volume), don't enter questions that are likely to be answered in book six. "Who is the next Minister for Magic?" – won't be considered. We're looking for good, insightful, well-thought questions about the series and Jo in general; we will ask questions about the minutiae of the series, but they aren't good for this contest. Questions that are unique, and to which the answers are likely to be thorough, are most likely to grab our attention.
2. The question MUST have been posted on a post, in our forums – NOT in comments here, NOT in e-mail – we're already getting so much e-mail that we're more likely to miss it than not if you do it that way, and would much rather actually see your thoughts.
3. We will still trawl this list as a whole (with the help of our forum mods, to save us time) to see what's really on your minds, when making up our full list of questions – so, if your question is not chosen for the top 10, that does not mean it will not be asked. Also, please keep in mind that a question you post on this list might have already been on our list, so please don't be agitated about credit. That's not what this is about, after all.
4. There has been a thread going on the Leaky Lounge ever since the announcement of the interview; this thread will be frozen but not disregarded – the questions asked there will still be considered for the contest.
5. Only questions posted before 12:01 a.m. June 19, GMT, will be considered for this contest. From June 18 to June 30, we will (with the help of our respective staffs) deliberate on the top 10. On July 1, the poll will be posted on TLC (and a separate one on MuggleNet) and the questions chosen. The poll will close July 10, giving Jo Rowling plenty of opportunity to see them and devise a cunning non-answer. Just kidding – we hope.

6. For help, look at previous Jo Rowling interviews (see our our Floo Partners, Quick Quotes and Madam Scoops, for all of them), to remind yourself what has and hasn't been asked, and which questions got the best answers.
7. The winners may choose to have their real or usernames, age and location revealed to Jo (and hence the rest of the world) when the questions are asked. If you are under 18 and wish to have your real name revealed, we will need to speak to your parent or guardian first.
8. Attempts to sway staff into choosing your question will result in your disqualification.
9. The first person to post the chosen question will be considered the person to whom the question belongs (this also holds true for those who posted in the first Leaky Lounge thread containing questions for Jo; those will be considered posted "before" the others).
10. You may post as many questions as you like, though a moderator may ask you to lump them all into one post if they find you are spamming the thread.
And that's it! If you're not a member of our forum, register here. The thread, titled "Ask Jo: TLC/MuggleNet Interview," is here. Go get inquisitive…and good luck!