JKR Granted Injunction Against Publication of HBP Contents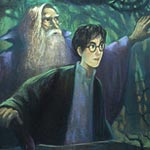 Jun 09, 2005
Uncategorized
The Press Gazette reports that JKR has been granted a wide-reaching injunction designed to stop anyone who may come into possession of all or part of HBP from disclosing it or any information in it. The injunction applies to all information from HBP other than that disclosed by JKR herself, or one of the book's publishers.
The legal action means that anyone who acquires the book in any form must immediately deliver it and any copies of it to the publisher, or face fines and jail time. Thanks to Zach at HarryPotterFanZone for the tip.
On a related note, a few people have emailed us at TLC to report that they've seen electronic copies of what purports to be HBP. At least two of the stories making the rounds are known to be fanfic. There's a very easy way to learn whether what someone has shown to you is fanfic that's already been posted online. Just go to Google and type in a four to six word phrase from the story. If it comes up via Google, then it is likely fanfic, and it's also likely that someone other than the story's author has removed disclaimers and other identifying information to pass the story off as HBP. Don't fall victim to one of the hoaxes; wait just a few more weeks to read HBP itself.