Half-Blood Prince Books Being Delivered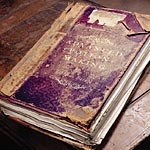 Jul 11, 2005
Uncategorized
Several pieces of news about the Half-Blood Prince books being delivered here in the states.
First, Scholastic has announced that the JKRowling specially signed copy of HBP for the winning library of the Scholastic contest arrived here in the States under much elaborate security.
After J.K. Rowling signed the book in her office in Edinburgh, Scotland, a Scholastic executive traveled with the book-under tight security-to Southampton, England where it was placed in a 5 foot by 7 foot steamer trunk which was then locked and loaded by crane onto the Queen Mary 2 for its journey to America. When the ship docked in New York City harbor, the steamer trunk was unloaded and transferred by the ship's porters to a Dunbar Armored truck and taken to a secure and undisclosed location. It will remain there until Friday, July 15 at 9:30am when Dunbar will deliver the trunk to Scholastic headquarters for a press event. There the trunk will be unlocked and the book will be presented to the grand prize winner of Scholastic's nationwide public library sweepstakes. More than 9,000 public libraries nationwide entered the sweepstakes for a chance to win the book.
You can see photos of the book making its high-security crossing in a Hogwarts trunk here:
JKR signing the first book
The Crossing, images 1-3
The Crossing, images 4-6
The Crossing, images 7-9
Also, CNN Money has this report on the first books arriving at the Barnes & Noble Store in Union Square in NYC.
Only 4 more days everyone!