Jim Dale Calling…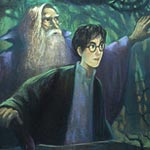 Jul 11, 2005
Uncategorized
Hello, this is Jim Dale calling… or at least his voice message, which is being sent to many readers who had pre-ordered Half-Blood Prince at Borders book stores. The voice of the man who narrators the US audio Harry Potter books says in his message:
"Hello,your reserved Harry Potter for 40% off at Borders Express. Hello, this is Jim Dale, narrator of the Harry Potter audio books, reminding you to pick up your reserved copy of Harry Potter and the Half-Blood Prince at Borders Express. Your book will be available at the stroke of midnight as Friday turns into Saturday, July 16th. All reserved copies must be claimed before the close of business on Sunday, July 17th. Harry Potter and the Half-Blood
Prince will be available with a fabulous discount at Borders Express in hardcover and as an unabridged audio book on cassette and CD. Cheers."
Cool! Also, Jim Dale was interviewed recently by CBS News, where he talked about his work narrating the Potter audio books. Noting that he keeps track of all the voices he does on tape, he said he can rewind or forward to double check the voice of the character before he performs it again. He also talked about the impact the books have had on his personal life saying
"So the question is: Do people ever recognize his voice?

"Oh, yes. Oh, yes, yes," he says, "I took my grandson into McDonald's to have a hamburger, and I'm asking in my voice, and I turn around, and two kids there with their eyes so wide open. He said, 'Are you…' and he said, 'Do Dumbledore!' So I'm ordering hamburgers as two different characters from 'Harry Potter.'"
Note at this link there IS a slight spoiler, so you are cautioned.
Thanks to Tom, Lori and Katelyn!
UPDATE: Meredith let us know that folks who pre-ordered from Waldenbooks are receiving the calls as well.