New Book No Kid Stuff, says Kansas City Star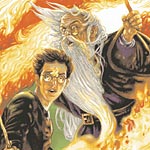 Jul 11, 2005
Uncategorized
The Kansas City Star today says:
"Who can say whether Harry Potter would be as successful without those fans old enough to order a martini?

Sarah Blair can.

"Absolutely not!" says the 26-year-old Potter fan from Gladstone. "All the fans I know are adults."
And speaking of adult fans, she's too shy to say so but our own Senior Editor Sue Upton is quoted:
"We have grown so big because we have discovered that there are so many adults out there reading the book," says Sue Upton, 41, senior editor of www.the-leaky-cauldron.org , which on an ordinary day racks up more than 750,000 hits.
(The hit statement is technically correct but sensically inaccurate; that's, these days, less than 1/6th of the hits you all generate.)