Raincoast obtains injunction against early distribution of HBP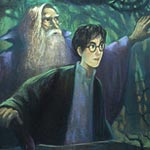 Jul 11, 2005
Uncategorized
EDITOR'S NOTE: We posted this the evening before last, but are "bumping" it up, as we have since received many emails from our readers who saw it this morning on CNN, as well as on other sites – including CBC Arts, which features an interview with Leaky's own B.K. DeLong (click for RealPlayer audio).
~*~
Raincoast, the Canadian publisher of the Harry Potter books, today obtained a court injunction, like Bloomsbury, who publish Rowling's books in the UK. Raincoast obtained a "John/Jane Doe injunction" against the copying or disclosing of all or any part of Harry Potter and the Half-Blood Prince or "any information derived therefrom" including without limitation the story, plot or characters, prior to 12:01 a.m. local time on July 16th.
Before this, Raincoast suffered a breach of the on-sale retail embargo date at just one location. The court ordered the return to Raincoast of any copies that have fallen into the hands of unauthorized persons owing to the breach, instructing "…anyone who has directly or indirectly received a copy or any other form of disclosure of Harry Potter #6 from John/Jane Does to deliver to the plaintiff Raincoast Books Distribution Ltd. forthwith any and all copies of Harry Potter #6 in their possession…"
Raincoast also announced that it would reward the small number of consumers who had inadvertently purchased at the store in question an early copy of the book, if they returned their copy to Raincoast immediately. Raincoast has issued a notice to the public requesting the immediate return of copies purchased early, including details of the special commemorative gift they will receive in return for their cooperation (see below the jump: Important Notice to All Harry Potter Fans). Raincoast has promised to restore any books returned to it to the relevant individuals at 12:01 a.m. local time on July 16th.
The injunction notice can be viewed here and Raincoast's release to the public about the leaks can be viewed by clicking below.
IMPORTANT NOTICE TO ALL HARRY POTTER FANS
July 16th is rapidly approaching, and for all Harry Potter fans this is the day when they will be reunited with the wonderful world J.K. Rowling has created. Not long now, and the magic will once again be enjoyed.
We know that many children and adults around the world cannot wait to read the new book, but we urge anyone who may have bought a copy of Harry Potter and the Half-Blood Prince at The Real Canadian Superstore, 3000 Lougheed Highway, Coquitlam, British Columbia on Thursday July, 7, 2005, where it was temporarily placed on sale early or who have otherwise obtained it before July 16th 2005, to return their copies to Raincoast Books for just a few more days to preserve the excitement for all Harry Potter fans alike.
We can't send Hedwig but can come to collect your copy and will hold it in safekeeping until 12.01am local time on the July 16th, where it will be presented back to you with an extra special gift – a signed book plate from the author herself and a limited special edition T-Shirt designed by the publishers for the Harry Potter Launch Weekend, as a way of thanking you for your cooperation.
This way, on July 16th you will join the rest of the world reading this wonderful new adventure in the series. We urge you to wait and join us.
It is also important that we make you aware that the Supreme Court of
British Columbia made an Order protecting the contents of the book. The terms of the Court Order mean that if you have obtained a copy of the book early you must not disclose or reveal any information about its contents or give any copies that you may have to anyone else. The Court Order also requires anyone who has a copy or copies of the book to return them to Raincoast immediately.
Anyone with information about copies of HARRY POTTER AND THE HALF-BLOOD PRINCE that have been sold early, or if you have bought a copy yourself, please urgently contact Raincoast.
Anyone who has purchased or otherwise obtained a copy of Harry Potter and the Half-Blood Prince before the publication date of July 16th should contact Raincoast immediately at 1-800-663-5714 or 604-323-7100. After hours please contact 604-968-0027 or 604-841-9206 or [email protected]