Amazon to Deliver as Scheduled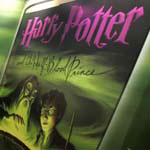 Jul 13, 2005
Uncategorized
We've received concerned emails from several Leaky readers over a notification they received from Amazon.com regarding delivery of Harry Potter and the Half-Blood Prince:
We're happy to let you know that we've begun preparing your order for "Harry Potter and the Half-Blood Prince" for delivery.

We're working hard to make sure you get your order as quickly as possible. However, please note that we can't guarantee that your book(s) will be delivered on July 16.

You'll receive our usual shipment confirmation e-mail after your package leaves our fulfillment center.

Thanks for shopping at Amazon.com, and happy reading!
Please note that this email is nothing more than a confirmation of what Amazon has posted on their website regarding delivery of the book:
We will deliver the book on its Saturday, July 16 release date to eligible customers who pre-order Harry Potter and the Half-Blood Prince from Amazon.com. Simply choose Standard Shipping when you place your order. In the unlikely event that you don't receive it on Saturday, July 16, we'll refund the cost of the book.
and in the restrictions:
9. Does not apply in the event of service interruptions or failures (including, for example, interruptions of our transportation systems or the services provided by our carriers) caused by events beyond Amazon.com's control.
We do NOT interpret this as a change in Amazon's policy – they're simply reiterating that actual delivery is dependent upon the carrier, which is out of their control.
We here at Leaky see no cause to worry, although as one of the editors remembers a very early morning delivery of book 4 via Amazon, we do suggest that you don't oversleep and chance missing the doorbell.