Harry Potter by Charles Dickens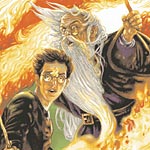 Jul 13, 2005
Uncategorized
The Star-Telegram has a very cute story today by writer Jeff Guinn who supposes what it would be like if the Harry Potter stories were written by an author other than J.K. Rowling. For fun, he took a chapter from the Harry Potter series and speculated how that same chapter would read if it written by legendary authors such as Charles Dickens and Shakespeare.
Charles Dickens: "It was surely the grandest holiday feast ever, even for a lad like Harry, who always held Christmas in his heart. The Hogwarts cooks presented braces of fine fat geese, grease bubbling beneath crispy skin, and boiled potatoes and vegetables and savory delights of every other imaginable sort. At the High Table, Albus Dumbledore, founder of the feast, laughed until he choked upon hearing some merry jest, and Harry leaped to his feet and shouted from sheer joy, 'God bless us, every one!' "

William Shakespeare: Prologue. Enter chorus.

CHORUS: A fair youth, yet marred with bruises plain

In cupboard dwelt, a darksome place;

Starved and stunted like some beast

And yet withal of winning face —

The skinny cheeks, the pokesome knees

The emerald eyes combine to pledge

Some magic powers dark and deep

All markèd by the lightning's edge.
Thanks Barbara!