Leaky Lounge Proudly Presents The Half-Blood Prince Reading Groups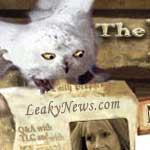 Jul 13, 2005
Uncategorized
Hello everyone! I am thrilled to pass on this announcement from our very own Nick Rhein, administrator of the Leaky Lounge:
We are pleased to announce the formation of reading-and-discussion groups for HBP at Leaky Lounge. These groups will be as custom-tailored as possible to individuals' reading styles and discussion styles, with many options, such as having a discussion facilitator; discussing two chapters a day, one chapter a day, or three chapters a week; and choosing the focus of the group's discussions – theorising, characters, shipping, sleuthing, and academic analysis. We have tried very hard to accomodate as many people as possible to make this as enjoyable an experience as we can, and will fit people to their groups with a sorting program that asks you your preferences.
The groups will open to members on Thursday, July 14, 12:00 GMT, 7:00pm EST. The sorting program will open at this time, and all groups will be established.
IMPORTANT: At 5:00 pm EST on Friday, July 15, we will close the reading groups as well as the rest of the Leaky Lounge in order to give the staff a bit of a breather and everyone a chance to read the book once through without the possibility of getting spoiled. There will be one forum left open for those who are brave enough to stay behind, but it is entirely possible that people will post spoilers there, so you are forewarned.
On Monday at 7:00 p.m. EST, the Lounge will reopen, and the reading groups as well. Full discussion of the Half-Blood Prince will begin at this time.
We hope that these reading-and-discussion groups will be a great experience for all of our readers. The staff and members of the Leaky Lounge have spent a great deal of time planning and brainstorming how best to do them, and we think that you will all be pleased with the result. We'd especially like to thank our Evaluation-and-Planning Committee of Leaky Lounge staff members Torill, Lilly, Aleonic, Lady Stratford, and Darcey, for their very well-thought-out blueprint for the groups.