Bloomsbury Releases Details on JKR Midnight Reading Video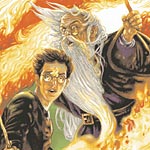 Jul 14, 2005
Uncategorized
UK Potter publishers Bloomsbury have just announced their plans to post on their website video and still photos from the midnight Half-Blood Prince release party in Edinburgh. Still photos from the event will be posted on the Bloomsbury Harry Potter website at 9am Saturday morning. They will also post two very short video clips from the event:
1. JK Rowling arriving on the red carpet at Edinburgh Castle (1 minute).

2. JK Rowling reading from the Harry Potter and the Half-Blood Prince in the Great Hall at midnight to the audience of 70 children (1 minute).

There will be no media access inside Edinburgh Castle on publication night.
Our own Melissa Anelli will also be attending this magical event and she will be bringing us all the scoop, so stay tuned!