Half-Blood Prince Books Sold Early In Indianapolis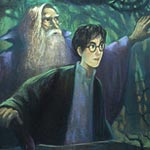 Jul 14, 2005
Uncategorized
The Ap is reporting this morning that two men in Indianapolis bought copies of Harry Potter and the Half-Blood Prince already.
Tim Meyer, 33, and Andrew Rauscher, 25, told The Indianapolis Star they purchased the books at a downtown store on Monday. They declined to provide the store's name because they are frequent customers.

"I thought I was seeing things," said Meyer. "I asked the lady, 'Can I buy this now?' and she was like 'Yeah' and just rang it up."
A Scholastic spokesperson said "We obviously take the security of this book very seriously and investigate any reported breaches of the on-sale date and would take any action that would be appropriate."
Harry Potter and the Half-Blood Prince will be released on July 16th.