Harry Turns to the Dark Side?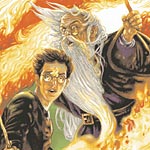 Jul 15, 2005
Uncategorized
Foxnews.com reports that as people await the release at midnight tonight, they are asking the question – how dark will this book be?
Jennifer Brown, children's reviews editor at Publishers Weekly, said the darkening books should not come as a surprise.

Rowling made clear from the very beginning that Harry would grow up from his first year at Hogwarts," the school at which children study how to become wizards in the series, said Brown. "Harry's parents are dead from the beginning.
Thanks, Betsy, for the link.