J.K.Rowling Interview on ITV; Book 7 Two Years Away?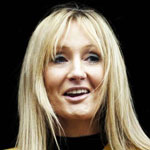 Jul 17, 2005
Uncategorized
ITV just broadcast show that featured their contest winner, Owen Jones, interviewing Harry Potter author J.K. Rowling. TLC Reader Dawn sent in some quick notes of things that JKR said in the broadcast.
– Jk says that Ravenclaw will have their day *taps nose*

– Wormtail will not kill Lupin.

– Jk was implying something having Dumbledore defeat Grindelwald the same year World War 2 ended.

– She gave Harry a fortune as she was poor at the time and wanted him to have a lot. Wishful thinking.

– Jk would like to teach Defence against the Dark Art at Hogwarts as it's the most worth while.

– Loves fan-theories. People have been very close to figuring out things and some people have even figured out part of book seven.

– Her editor doesn't want characters swearing, so she gets round that (by saying things like Ron swore loudly).

– Will start book seven at the end of the year and has already done a few things to prepare.
UPDATE: CBBC Newsround has now posted their story about this ITV interview. In an article titled "Potter seven is 'two years' away' ", there are some additional quotes from J.K. Rowling about the books.
But she did have some good news for Potter fans who can't imagine waiting another two years to find out what happens to Harry and his friends. She said that, more than ever before, the end of the sixth book will leave big clues as to what's to come in book seven.

"I think I give very clear pointers as to what Harry will do next," she said. "There is plenty to guess at… at least one thing I think people will probably deduce, there is a mystery left at the end, but I think they might already know the answer if they think about it."
ALSO: Ireland On-line now has extensive quotage from the interview with JKR. There is this from the author about keeping the plots and details secret before the release of the books
"What do you think you have gained from keeping the plots such a secret?" asked Owen.

Rowling replied "I gain nothing but the satisfaction of knowing that all my hard work goes to the people for whom it is intended. In other words, people who really want to read the books, and I definitely believe that 99.9% of my readership would rather read the books and find out for themselves.

"I find it upsetting and disquieting that some elements are so keen on spoilers because it seems such a mean spirited thing to do. This is not about money or anything other than the pleasure of reading for people who want to read it, so… yeah I find that difficult."
We will bring you more on this interview when we can. Also, as Melissa noted below, the first part of her ( and Emerson from MuggleNet) interview with JKR will be posted tomorrow.
Thanks Dawn!