J.K. Rowling Interview with Katie Couric Transcript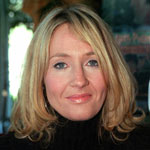 Jul 17, 2005
Uncategorized
The transcript from Katie Couric's interview with J.K. Rowling has now been posted on the Dateline NBC website. In this piece which aired tonight, unfortunately, there wasn't too much specifically about the new book. The questions that the children submitted will be broadcast tomorrow morning on the Today Show . However, in tonight's interview there were questions about how fame has affected her, her reported fortune from the books, and about book seven and beyond.
Couric: If you, God forbid, got hit by a bus…

Rowling: Yeah, it's perfectly possible, I'm a very distracted person.

Couric: Does anybody know your ideas for book seven?

Rowling: No.

Couric: Nobody? Not a soul?

Rowling: No.

Couric: Not Neil?

Rowling: I wouldn't tell- Neil would forget. You know, he wouldn't be a good person to tell anyway. No, no one knows. Which is good, because if I do get hit by a bus, I would really hate to think someone else was going to take over. It's my baby.

And as she looks forward to a literary life beyond Harry Potter, Jo says she will savor her final journey aboard the Hogwarts Express.

Couric: When you finish it, and obviously you have a lot of work ahead of you, are you going to be sad or-

Rowling: Yeah. It's going to be really emotional to say goodbye. I'm going to find it very difficult. But it must be done, it must be done. It's been a fabulous ride, but you have to know when to get off, and I know when to get off, and it will be the end of book seven.

Couric: Terrifying, though, to think about what you'll do next-

Rowling: No, liberating. Definitely. Yeah. It is. The world is my oyster. I can do whatever I like.
There will be more tomorrow more on NBC's the Today Show, which airs at 7am (est). Thanks Megan.