"Ask Jo" Contest Polls Open!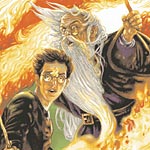 Jul 02, 2005
Uncategorized
All right! Sorry for the delay guys, it's a busy time both here and on MuggleNet – but we are finally ready to present you with the top 10 questions chosen from our "Ask Jo" contest. Vote here!
At the Leaky Lounge we had more than 1,500 posts and 4,100 questions submitted before deadline. I read every single one of them (and now need reading glasses ;), and so did many of the mods. We came up with our choices, put them all to a rating, and the top-rated picks got put in a "Top 20″; then, Emerson of MuggleNet and I compared our lists and pared down our duplicates to come up with two separately unique lists of 10.
They are now listed on our right-side sidebar of our main page (which you'll have to come over to from the text page, if you're using it), with the name of the person who asked it first after it. In many cases they were shortened, paraphrased, and edited for clarity – so be sure to read the questions fully to see if yours is among them, because while we didn't change the content of the question or the question itself, the wording may have been altered.
Choose the one you like best or most want to see asked, and vote; the top three votegetting questions from each of our sites will be posed to Jo Rowling when we interview her on July 16 in Edinburgh. The poll closes at 12:01 a.m. on Friday, July 8. The people who asked the top three will be contacted privately, so if you're one of them, wait for us to get in touch.
After reading all of these, I can say with confidence that you all are some of the most analytical and intelligent people I've ever come across. It was nearly impossible to choose (our "narrowed down" list was over 100 questions long), and I feel many of your most frequent queries are going to be addressed in the interview anyway. We really wish we could ask them all.
PLEASE NOTE: If any of the winning questions are answered in book six, we will use questions that came in as runners-up in their place.
But I can't wait to find out who won the contest, so get voting!