JKRowling.com to Feature Accessibility for Disabled and Visually Impaired Users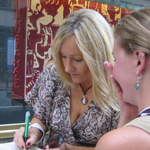 Jul 21, 2005
Uncategorized
JKRowling.com became accessible yesterday to disabled, deaf and visually impaired internet users. Lighmaker worked with RNIB and Macromedia to develop the new version.
The site is now navigable by keyboard without a mouse, and contains an accessibility menu, including the ability to enlarge text in certain areas, pause movement, and turn off background sound. A sound glossary has been built in so that users can look-up the meaning of important sound clues on the site and a caption element allows all users to read contextual content of sounds.
JKR said, "[the site] allows me the opportunity to be able to communicate directly with as many Harry Potter fans as possible. I am therefore delighted that disabled and visually impaired fans can now be a part of this."
The hidden content on JKR.com will be slightly easier to find for impaired users.