The Appeal of Harry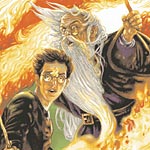 Jul 27, 2005
Uncategorized
The Guardian has a look at the strong appeal of the Potter books for readers of all ages, as well as at others series often classified as 'children's books':
Although we can measure the size of the phenomenon by crunching numbers, that doesn't help us to understand why Harry Potter stands quite so large in our culture. And Harry is not alone – in a way his success only serves to echo and reinforce the equally unexpected breakthrough of The Lord of the Rings 50 years ago. That too was conceived for children but then came to define, in defiance of critical opinion, what many adult readers were looking for.
Thanks, Jenn, for the link!