Barnes and Noble Opens HBP Discussion Forum, Led by TLC Staff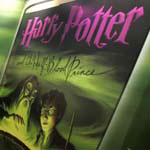 Jul 05, 2005
Uncategorized
Barnes & Noble.com has announced that it will be opening up, for the first time, free online Harry Potter Reading Groups, and we're proud to announce that Leaky staff will be helping to moderate the discussions.
The exhaustive forum will be moderated by staff from the main TLC page and moderators of our forum, including Sue, B.K. and myself, over all sessions; at the moment one starts July 11 and another in August. We'll be guiding conversations and offering whatever insight we can.
BN's reading groups have reached thousands of readers and involved more than 70 authors and dozens of wide-ranging works – this will be the first time it has established a place for Harry Potter fans, and we are thrilled to be a part of it.
Our editor Sue is first in line to lead discussion, which starts July 11, when readers will be able to start sharing their excitement, questions and theories. Once the book is released, the group will start discussing the events and themes. The forum is available 24 hours a day, 7days a week. The first group will discuss HBP throughout July. Make sure to check out the site to sign up and find out more!