Guarding the Half-Blood Prince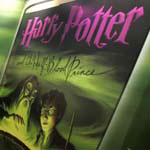 Jul 05, 2005
Uncategorized

Security continues to be tight as the publishers of the new Harry Potter book are determined to keep a tight lid on any possible leaks and spoilers getting out before the release date on July 16. While there are not any security trolls on patrol(that we muggles can see anyway

), The New York Times reports today that "security plans are in place, the delivery efforts are under way and lawyers are standing by in case any copies of "Harry Potter and the Half-Blood Prince" go astray." While this may seem extreme to some, Barbara Marcus of Scholastic says that this is the author's wish.
The decision to maintain such tight security stems from the expressed desires of Ms. Rowling, the British author of the Potter series, to create a special experience, Ms. Marcus said. "It was her concept for kids to all get the book at the same time and be reading it at the same time," she said.
So far , all the efforts to maintain the secrecy of things such as the who IS the Half-Blood Prince have been paying off, and as yet, there has not been any of the leaking of information, or early sales of the book like we experienced with book five. Our own managing editor Melissa Anelli is quoted as saying:
"We're seeing a lot less of that type of activity here than we expected," said Melissa Anelli, editorial director for the-leaky-cauldron.org, an Internet site for Potter devotees that chronicles just about every event even remotely tied to the release.

"By this time with the last book, news had started to leak out," Ms. Anelli said, referring to the release of "Harry Potter and the Order of the Phoenix" in 2003. "There were a lot of plot spoilers and other information published. This time it's been very quiet."
While the exact nature of the plot and other juicy tidbits have not been released for this book, anxious fans have been glad to see some photos of the actual books being packaged and readied for shipment, as we did a few weeks ago. We apparently will be getting more photos today.
" On Monday, Amazon.com is to invite reporters and photographers into its distribution center in Fernley, Nev., to let them see its packing and shipping operations. Barnes & Noble invited photographers into its northeast distribution center last month for a similar photo opportunity.
We will post any pictures that are released as soon as we can. Hang in there everyone: only 10 more days!