ITV to Air Competition for Cub Reporters, JKRowling Interview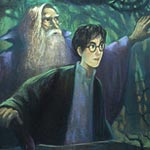 Jul 06, 2005
Uncategorized

UK channel ITV is set to broadcast a television show where four young Potter fans will be competing for a chance to be one of the lucky cub reporters at the Half-Blood Prince launch party. Chosen from a writing contest, these young finalists will be tested on their knowledge of the Harry Potter world.
The show's presenter says:
"There's a lot at stake for the four contestants. To get this far is an amazing achievement but to be crowned the ultimate Harry Potter fan, to meet JK Rowling and attend the book launch is a chance in a lifetime."
"Harry Potter at the Castle: the Quest for the Ultimate Harry Potter Fan" will air on ITV Sunday, July 10th from 5:15 to 6pm. Also, TLC reader Wendy let us know that the ITV broadcast of a show covering the launch party at Edinburgh Castle hosted by J.K. Rowling is set to air on Friday, July 15th from 11.45pm to 12.10am.
UPDATE: TLC Reader Roonwit let us know that ITV will air a third program featuring an interview with J.K.Rowling on Sunday, July 17th from 5:30-6:00 pm. The RadioTimes website says this of the show called "Harry Potter at the Castle":
The JK Rowling Interview

One child will interview author J.K. Rowling. This is the only one-on-one interview she will give in this country and is the culmination of three programmes commissioned by ITV to celebrate the launch of the new Harry Potter book – 'Harry Potter and the Half Blood Prince'. The child is the winner of 'The Quest forthe Ultimate Harry Potter Fan' on ITV1 on July 10th. This child will have beentaken up to Edinburgh where the countdown begins just before midnight on July 15th with the arrival of 70 children from around the world. They have been invited to the castle to hear author J.K. Rowling read an extract from the new book. This programme will show highlights of the Friday night, along with the competition winner's journey and their exclusive interview with J.K. Rowling.
Thanks Wendy and Roonwit!!