USA Today Article on JKR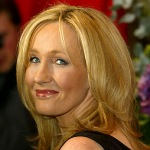 Jul 06, 2005
Uncategorized
The USA Today has posted an article on our favourite author, J.K. Rowling. It is mostly an overview of her life, re-telling the story of the struggling author, and her subsequent successes with the Harry Potter books.
Barry Cunningham, her first editor at Bloomsbury Publishing in London, remembers giving her "terrible advice" when they met in the 1990s. Rowling was a divorced woman without much money.

"She was telling me about her circumstances. I was worried she was really relying on Harry to be the future for her and her daughter," Cunningham says. "I told her she wouldn't make any money at children's books, and she should get a day job,"

Since then, her first five Harry Potter books (in a series of seven) have sold an estimated 270 million copies worldwide in 62 languages.
The article goes on about the upcoming midnight release party for Harry Potter and the Half-Blood Prince in Edinburgh, which will be attended by two very special guests.
On her own, Rowling invited two Americans-Emerson Spartz, 18, who runs mugglenet.com, and Melissa Anelli, 25, of the-leaky-cauldron.org – for a private interview that Saturday.

Says Anelli, who met Rowling before (and was given an exuberant hug for her Web site): "She's down-to-earth. It sounds like an easy description people use for many famous people, but for her it's absolutely true."