Leaky Lounge: 10,000 Members Strong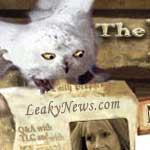 Jul 08, 2005
Uncategorized
A quick and fun announcement today: After being open less than six months, Leaky Lounge, our forum, registered its 10,000th member. We're floored and wowed.
And here comes the big massive Thank Yous, because we haven't posted purely about the forum since it opened, and I have to say, it is really everything I hoped a Leaky forum would be – fun, friendly, huge, bustling, warm, intelligent and funny.

This sounds like tooting our own horn but it's really me tooting the horns of some really wonderful people (um, that didn't sound exactly as I imagined it would). These people are our fantastic moderators: aleoninc, Asphodel Wormwood, Darcey, elly, JackDoor, Lady Stratford, Lexicon Bel, Lilly, LisaQQQ, paperflowergirl, Puffin, Red Siren, Tanisia Mooney and Torill. TLC Head Designer John Noe designed the template; TLC Senior Editor Sue does huge amounts of work there, and GHalex and Matthew have helped out tremendously. And Nick Rhein gets a special Leaky standing-o from me, because he is the one who showed up on our doorstep with a plan for the kind of forum we always wanted here, and has put in constant, tireless, hours keeping it moving, improving and flourishing. If you've ever seen his and GHalex's modifications thread, you realize just how much has been done over there since we opened.
Nick, and everyone, it was no small feat creating a forum to match the kind of community that has grown up around Leaky, but you've done it with such class and style. Everyone here thanks you and hopes you'll all take a bow.
size="-1″>Note: Our comments are temporarily disabled to save the server from im- or exploding. Please visit the Daily Prophet Offices section of Leaky Lounge to discuss news.