Second B&N Reading Group Open for Enrollment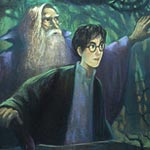 Jul 08, 2005
Uncategorized
The first Barnes & Noble HBP discussion group, scheduled to begin chatting on Tuesday led by our own Sue Upton, is full.
Because of the tremendous response, a second one is now open for enrolllment; this one will be hosted by John Granger, author of
Looking for God in Harry Potter, and our own Doris Herrman (you know her on the forums as Darcey). Sign up for it here!
Also, pre-ordering
HBP from B&N by 11:59 ET on Monday guarantees July 16 delivery if you're in the US.
(And keep an eye out for an announcement about what will be going on in Leaky Lounge to discuss HBP…)
size="-1″>Note: Our comments are temporarily disabled to save the server from im- or exploding. Please visit the Daily Prophet Offices section of Leaky Lounge to discuss news.