Zogby Poll Places Politicians at Hogwarts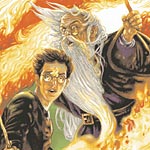 Aug 01, 2005
Uncategorized
An interactive survey of 6,819 adults across the United States have determined that President George Bush and New York Senator Hillary Clinton would both land smack in Slytherin, while the US's First Lady, Laura Bush, would find herself among the badgers of Hufflepuff. Meanwhile 57% of respondents said they'd elect Hermione Granger president.
The poll, which found that three in five adults who had read the previous HP books planned to buy the sixth, also showed there was almost no Democratic/Republican split on HP readers: roughly 65% of Democrats and independents and 66% of Republicans planned on reading the book.
Forty-one percent of poll-takers, a plurality, placed themselves in Ravenclaw, not Gryffindor (30%), which came in second. Hufflepuff garnered 23% and Slytherin came last, with only two percent.