Followup: Original Sorcerer's Stone Sketch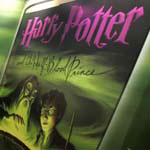 Aug 10, 2005
Uncategorized
Yesterday, we told you about J.K. Rowling donating for exhibition an original handwritten chapter and sketch she made for Harry Potter and the Sorcerer's Stone. Today, The Guardian newspaper has more details about the drawing which appears to be one with Hagrid, Professor Dumbledore, and Professor McGonagall with baby Harry. You can now see a clear photo of this at the link. There are also a few new details about what was written on this chapter from the book which will be on display at the Seven Stories centre in the UK.
"…will find what looks like a hastily scribbled shopping list with the words Binns, Auriga, Flitwick, Sprout. For those who fail to recognise the names, an underlined page heading gives the game away: The Journey from Platform 9 3/4

This is the original manuscript, much altered and slaved-over, which launched one of modern fiction's most brilliant careers. Alongside the sheaves of unlined paper, criss-crossed with blue and black ink, one of Rowling's original but unused drawings is also going on show at the £6.5m project on Tyneside.

The drawing shows how closely the casting and make-up of actor Robbie Coltrane as Hogwarts' caretaker, Hagrid, came to reproducing Ms Rowling's original idea. The black-and-white sketch was intended for the first book, Harry Potter and the Philosopher's Stone, which introduced the oddly- numbered King's Cross platform used to travel to Hogwarts. It leaves Harry's features to the imagination – he is just a baby about to be left by Hagrid and Professor Dumbledore with the Dursley family.

The progress of the writer's thoughts is clear from the manuscripts, with sections deleted and swapped around and space boxed-off for checklists of characters – Binns, Flitwick and Sprout are professors at Hogwarts school and Auriga is said to have been intended to be the name of another."
To read the entire photo and see the sketch, click here.
Thanks very much Laura!