HP Films Lead "British Film" Trend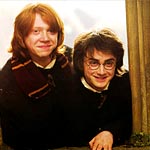 Aug 10, 2005
Uncategorized
The Guardian reports on a new trend in "British" cinema – films that are "financed by the US but made in the UK, and with British cultural content".
A spokesman from the Film Council said: "It depends on your politics on film. You could be brutal and say that Harry Potter is made by Warner and all the box office revenue goes back to the US. On the other hand, looking at the upcoming Harry Potter and the Goblet of Fire, it has a British cast, crew and director, and is shot in the UK, and every penny spent during its making is spent in Britain. It is a Hollywood picture but is quintessentially British in its cultural content."
The article also notes that in large part because of Prisoner of Azkaban and the second Bridget Jones film, The Edge of Reason, British films were 49% more popular in 2004 than in 2003; no Harry Potter film was released in 2003, although the first two were released in 2001 and 2002, which explains the 2003 dip in "British film" popularity within the UK.