Hogwarts Online Potter Game?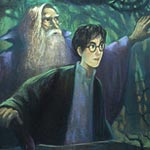 Aug 16, 2005
Uncategorized
There is news today about a possible online Harry Potter game made by the people who do work for the Sims online games. New Pencil, a company that makes 3D graphics, apparently has teamed up with EA, the makers of the Harry Potter games, to develop something known as "Hogwarts Online". If you click this link, then on "Portfolio" then "Environments", you can see some very cool screenshots from this possible online game. There are shots of what looks like the Hogwarts castle, various doors, including one labeled "Chess Room", and the Quidditch Pitch. Unfortunately, there is no other information available as to when or if this online game is actually going to happen. We are trying to find out more about this game, and we will update as soon as we can.
Update It looks like New Pencil has closed its doors. This game is probably delayed at the best. The company's goodbye notice is up.
Thanks very much Elizabeth!