PotterCast TidBit Wrapup: Kids to Return for HP5, says Craig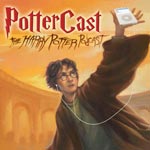 Aug 22, 2005
Uncategorized
At popular demand, here's a small wrapup of the interview tidbits that were released in the interviews in this week's PotterCast.
-Bonnie Wright spoke about filming movie four and Mike Newell's tendency to explain the big picture and make the very large cast feel part of the entire experience; she also talks about her reactions to book six and the possibility of filming it.
-Stuart Craig, production designer on the HP films, said he believes the main Potter kids are coming back for Harry Potter and the Order of the Phoenix. He also talks about Yates' vision, Newell's directing style, and more.
For more, including how to listen to the show, visit PotterCast.
Also: The Leaky Lounge is temporarily down due to a server error. We hope to be back up soon.