Help Getting PotterCast on iTunes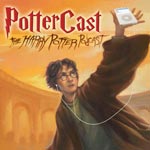 Aug 23, 2005
Uncategorized
First of all, thanks for your incredible response to our podcast. We never expected to get to the top 10 on iTunes in the first 12 hours of broadcast; we're just having a blast, and can't wait for future shows. We've got a lot planned (and yes, the sound levels will continue to improve).
We know a lot of you are still having trouble getting PotterCast; it's all right, we're here to help. Please do not feel silly – there were times during the recording of our first show and especially during the creation of the feed that makes this all work, that we almost threw our computers against our respective walls. Technnotrouble is natural, and skips over no-one – so here is a step-by-step guide to subscribing to and listening to PotterCast on one of the available services (and the one we find the easiest), iTunes. This guide was created by Lounge moderator JackDoor and can be accessed permanently here. It assumes you have downloaded and installed the iTunes software, so if you haven't yet, go here and get it. Step-by-step, with screenshots to help:
1. On PotterCast.com, push the grey iTunes button seen here.
The next two steps are for Mozilla Firefox users only, and even then depend on whether you have done this before, so if steps 2 and 3 don't apply to you just move on to step 4.
2. You will be prompted to select whether you have the iTunes software, select this one.
3. It will ask if it is allowed to launch the iTunes application, select this one.
4. When you arrive at the details page for the PotterCast, choose to subscribe here.
5. It will ask you to confirm your subscription to the Podcast, select this option.
6. Once subscribed it will take you to your Podcasts page, expand the list of available podcasts by pushing this button.
7. Select the Get button for the first full show here (disregard the mention of a teaser: that was a test we did before uploading the show).
8. You should now be able to see the show's download progress at the top of the screen, like this.
9. Select the show once it has finished downloading like this.
10. And finally push the Play button in the upper-left corner of the window, seen here.
We hope that helps. And if you're still having trouble after this, leave a comment and we'll try to help.
(We've had a direct download link since the word go! We don't know why people can't find it. Directions for doing that are here.)
(Check it out guys: number four! Thank you!)