Lexicon: HBP Mystery Person Revealed?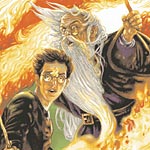 Aug 29, 2005
Posted by Melissa Anelli
Uncategorized
The Lexicon has received information that may reveal the identity of someone mentioned at the end of HBP via initials. (For the unspoiled, we'll refrain from posting them.) It should be noted that this, while it comes from a reliable source, is still rumor until confirmed or denied by Jo & Co. It is, however, strong enough of a rumor to bring to your attention.