PotterCast Transcripts Uploaded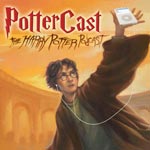 Aug 29, 2005
Uncategorized
Listen/Subscribe / Call in/contact / Leave voicemail
The transcripts to the first PotterCast and the special Potter/MuggleCast are now up! For Show #1, click here; for our special episode with MuggleCast, click here.
The PotterCast transcripts will, from now on, be done for us by the new team of PotterCast Transcription Elves: Jennifer, Jonathon, Pascal, Rachel, Tim, Teresa and Peter. Show #1 was transcribed by Tim and Rachel; the special episode by Peter. We thank these guys heartily. If you'd like to join the team, drop us an email.
Also, as we previously announced, our cover art has changed. Check out the new John Noe creation at PotterCast.com, or just on the thumbnail of this post.
We're really proud to say that we've been hovering between #2 and #3 on the iTunes directory for a few days now, and also that we very briefly ascended to #1 over this week. Thank you all for your support – it's been amazing!
We know what you're asking now: When's PotterCast Show #2 coming out? Very soon – before tomorrow. And it's a good one, so hang tight!