Shipping News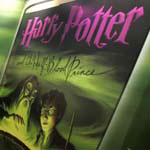 Aug 03, 2005
Uncategorized
Potter fan one: "So, who do you 'ship'?"
Potter fan two: [blank expression] "Ship?"
We at Leaky have gotten many emails about the phenomena in the fandom of 'shipping' (which is the 'relationshipping' or rooting for romantic pairings of characters in the Harry Potter novels). Many discussions about this take place on various fan sites and in fan-fiction as well. Today, the San Francisco Chronicle takes a look at this, in particular the post-HBP fallout between those that 'ship' Harry/Ginny versus the followers of Harry/Hermione.
Readers will remember a few weeks ago, our own Melissa and Emerson of MuggleNet conducted an interview with author J.K. Rowling. During that interview, the topic of shipping came up, with the word 'delusional' used at one point, and in the interview it became apparent that one ship was errm, sunk. Despite apologies and clarifications of the use of that word 'delusional' in regards to followers of one particular ship, there was an uproar by a small portion of fans over that portion of the interview. One fan quoted in this article notes that she felt the use of the word 'delusional' lacked tact, saying "I think it was just carelessness and was not meant maliciously."
Both Emerson and Melissa were asked about this outpouring of emotion which did include hateful emails, threats, and much anger towards even JKR.
Anelli, 25, who works as a journalist when she isn't overseeing the Leaky Cauldron, says that most abuse came from a small faction of vociferous fans. "They've lost the ability to divorce themselves between what J.K. Rowling is doing and what they'd like to see happen, and they've taken their disappointment and projected it onto her," she says. "I can totally understand how you could be upset if your preference didn't happen, but I can't understand or tolerate that people who claim to be her fans can be so mean to her."

…

"I was surprised," says Spartz, 18, of the furious response. "But in hindsight, I shouldn't have been. I forgot how emotionally invested these 'shippers get. I knew they weren't going to be happy … but I did not see it generating this much hate." He adds, "Romance in the books is the most prominent source of debate in the online fandom, where many of the fans border on obsessive, but casual readers will never understand what the big deal is."
Thanks to Rodrigo and Jonathan for the link!