PotterCast Show #2 Now Available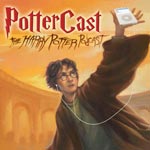 Aug 30, 2005
Uncategorized
Listen/Subscribe / Call in/contact / Leave voicemail
The second episode of PotterCast is now available! For subscription visit the links above; for direct download visit our episodes page; for help visit our tutorial.
In this episode:
During the fan interview, MaraudingDon explains to us all why Snape is a foul, loathsome, evil little… and why even a dramatic star turn as Mr. Darcy could not redeem him.

In the ModCast, Sue Upton turns up! Also, our LeakyLounge.com moderators discuss "Harry Potter and the Goblet of Fire" – Puffin protects Winky's honor, Doris thinks Hermione's a real Belle, and the mods defend the virtue of Ron's hippie look.

On the first-ever Potterania, two fans duke it out for fame, glory, honor – and a T-shirt. Chris Rankin (aka Percy Weasley) hosts, and debuts his fantastic Madame Maxime voice.

Chris hangs around for our Extendable Ears segment, where he talks about his latest projects, his book six theories, and the woman that can kill him with her mind.

On our first-ever mailbag segment, Melissa and Sue show the world why kids need to ask their parents permission before using the phone and explain why Melissa won't talk about The Jo Interview (yet!).
This show was once again sound designed and produced by John Noe. Special thanks this time to goes Chris Rankin, an extraordinarily patient person!
Update: The link has been fixed; also, if you're on iTunes and our latest show isn't showing up, hit "Update Podcast" and it will. It takes a little while to show on our listing.