WB's "Grave" Goblet of Fire Mistake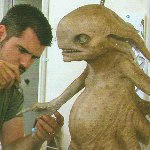 Aug 07, 2005
Uncategorized
Many readers have emailed us here at Leaky over this photo that appeared recently in Entertainment Weekly showing a scene from the upcoming Goblet of Fire film. The source of the uproar stemmed over the fact that in the photo Harry is shown standing in front of a grave with three names written on in, including one that reads "Tom Marvolo Riddle 1915-1943″. As we know, that is the name of Lord Voldemort,and who, despite his err unnatural state at the begining of the sequence of Goblet of Fire, was not buried in that grave. He also did not kill the Riddles until 1944 or 1945. Readers have also pointed out that even if this was the name of Voldemort's father, then he would have only been 11 years old when Voldemort was born (and Voldemort's father's middle name would NOT be Marvolo; Marvolo being from his mother's side of the family- phew!). Finally, many readers also pointed out that in Half-Blood Prince we learn of Voldemort's birthdate as December 31st, 1926. For more on Voldemort's timeline, see this from floo partner, The Lexicon.
Apparently the Mail on Sunday newspaper got wind of the outcry over this error in the photo, and an article appeared in their paper today about this flap.Page at Dan Radcliffe.co.uk has posted this scan of the article which notes that the reporter even read our Lounge forum discussion about this mistake. Members Sickle and Avalon are quoted in the article about this mistake on the gravestone.
The article goes on to say that Warner Brothers "insists that it will be accurate in the final film", and that the mistake will be corrected. However, there were no further details available regarding the corrections. Leaky has also been in contact with WB about this, and we will update you with more when we can. Harry Potter and the Goblet of Fire is due to be released on November 18th.
Update: Emily let us know about this Australian news article on this subject that has this additional bit: "Producers are said to be considering altering the tombstone with the latest computer wizardry. They have ruled out re-shooting scenes involving Radcliffe."
Thanks to JR, Emily, and Dan Radcliffe.co.uk!