New Goblet Photos in USA Today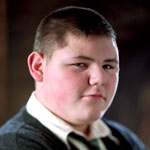 Sep 13, 2005
Uncategorized
The USA Today has posted online three new photos from the upcoming Harry Potter and the Goblet of Fire film. The first one includes the Hogwarts professors (even Snape!) along with Madame Maxime, the second shows Krum kissing Hermione's hand, and the third features a shot from the first task with an airborne Harry and the Horntail Dragon. The very short article with these new photos reads:
"Harry Potter faces evil Lord Voldemort, the death of a rival and his first prom in Harry Potter and the Goblet of Fire, the first Potter movie to be rated PG-13. "It's probably not for 4-year-olds," says producer David Heyman of the fourth in the series, which opens Nov. 18. Mike Newell (Four Weddings and a Funeral) directs.
As Harry is chosen to compete in the Triwizard Tournament, Voldemort (Ralph Fiennes) signals his return to power. The trailer arrives in theaters this weekend."
Click here to see the new pics!
Thanks VS!