Goblet Director Newell Brings "Authenticity" to Film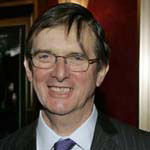 Sep 18, 2005
Uncategorized
Film director Mike Newell spoke with the LA Daily News about his new film, Harry Potter and the Goblet of Fire, saying he hopes his English background will help enhance the film.
"This one is bound to be a bit different, because I'm English and the others weren't," Newell states flatly. "Whether anyone will notice, I don't know, but I hope it has a kind of authenticity. And it's a little darker than the others, because these kids are growing up, and they have to face stuff that they haven't had to before. But the real thing about it is that it's a terrific adventure story and a really good thriller."
UPDATE: Mike Newell also spoke with Sci Fi Wire and reiterated many of the things he has said previously about the new film, such as Goblet is a "thriller". He says:
"And I found for my own satisfaction a very good way of pulling everything together, and it was that the thing is a thriller. And the thriller is that Voldemort, the creature of ultimate evil, is now feeling his power again, and he needs to reform himself. He needs to get his body back. And the only way that he can do that is to subject himself to a particular potion, which, in order to be effective, needs three drops of Harry's blood. And so this whole year is set up by Voldemort as a way of getting the boy sufficiently in his power."
Thanks Elizabeth and Neko!